Why buy
All the benefits of an S View cover with built in Qi wireless charging
Replaces the back cover of the Samsung Galaxy Note 3
Provides full screen protection without additional bulk
View and action incoming calls and messages
Inteligent colour system customises your S View screen
Durable construction offers premium protection for your screen
Official Samsung accessory made for the Galaxy Note 3
---
Additional information
Please note: Samsung is currently having QC issues with their Note 3 S View Cases. All shipments have been postponed with no confirmed delivery date from Samsung. The stock status will reflect the time of delivery given to us by Samsung, but this date may change depending on further information we receive from Samsung.
All the benefits of an S View cover with built in Qi wireless charging
This is the Qi wireless enabled S View cover, meaning you receive all the benefits of an S View cover with the added bonus of being able to wirelessly charge your Galaxy Note 3.
Provides full screen protection without additional bulk
Protect the front of your Samsung Galaxy Note 3 from scratches, scrapes and front-on impacts with the official S View cover.
This case replaces the original back cover of your Note 3, clipping onto the back of your device without adding any bulk and then folds over the front when not in use. This means that the most important part of the phone, the screen, is protected from harm without the added thickness and weight normally associated with flip cases.
View and action incoming calls and messages
Aptly named, the official 'S View' case for the Samsung Galaxy Note 3 includes a cut out allowing you to view incoming calls, answer calls, check the weather, control your music and much more at a glance through the front cover.
The S Pen is also fully functional through the S View, allowing you to easily access functions such as S Note.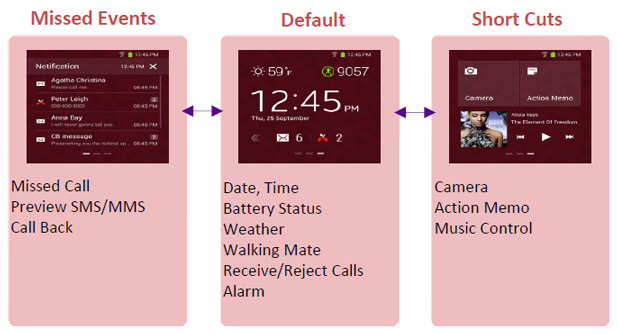 Inteligent colour system customises your S View screen
The Note 3 can detect the colour of the case you are attaching and automatically customises the background colour of your phone's screen to compliment the case. You can also of course change it manually if you are looking for something a little different.

Durable construction offers premium protection for your screen
Made from high quality synthetic leather materials, this flip cover will keep your Samsung Galaxy Note 3 screen looking as good as new. The cover is tough enough to withstand day-to-day punishment without blemishing, so both your phone and cover will remain pristine for longer.
Official Samsung accessory made for the Galaxy Note 3
This is an official Samsung product, so is made to the highest standards with the best quality materials. It is designed specifically for use with the Samsung Galaxy Note 3, so offers a perfect fit and does not impede the use of any of the functions such as the power and volume buttons, headphone and charging ports, or front and rear cameras.
There are no reviews for your native language. Please select an alternative filter above.
Average rating 4,3 given by 4 customers | Write a review