Hyödyllisimmät arviot
11 Kesäkuu 2017
Excellent Unit
Solid unit with excellent sound quality. Very easy to link via Bluetooth.
Twyning
Cornwall
Oligarchs toughbeats
2 Kesäkuu 2017
Good sounds + tough build
I bought this as my shower speaker and as it's splashproof I hook it above my head using sucker hooks. For £20 the sound and build quality are superb. I also use it outside in the garden and there is enough power to be good there too. It's compact and covered in a silicon like tough plastiic. It's easy to grip when wet. The casing feels very rigid and strong. A great multi purpose speaker at a bargain price. It's an earlier version of Bluetooth so I wondered how well it would work. Pairing for one device was super easy and the sound quality was fine over normal distances. If you want a low cost simple Bluetooth speaker portable and good for a range of uses this is tough to beat! ( see what I did there
Anonymous
Hertfordshire
Olixar ToughBeats Outdoor Wireless Bluetooth Speaker
15 Heinäkuu 2015
Chill out and relax and listen to the Beats
I've ordered several products in the past from Mobile Fun, and so I was more than happy to look them up regards a wireless outdoor speaker. The important factor for me; it can survive the strains of tiny clumsy dirty hands; yes my kids! Having searched both Mobile Fun and other online sites, I can across the Olixar ToughBeats Speaker, and in short it's a great product at a great price. It connects in seconds and is very robust. I would highly recommend this product and Mobile Fun, they provide a great selection of products and an efficient service. Finally, the price, a bargain at £25. Thanks Mobile Fun.
22 Arviot
|
kirjoita arviointi
---
Miksi?
Hifi audio tarjoaa erinomaisen äänenlaadun
Soveltuu ulkokäyttöön
Tyylikäs ja mukana kannettava
Bluetooth ja kaapeli -liitäntä, joten sopii mille tahansa laitteelle
Automaattinen Bluetooth-yhteys - ei salasanoja
Sisäänrakennettu mikrofoni handsfree- ja konferenssipuheluita varten
Sisäänrakennettu 800mAh Li-ion akku
---
Pakkauksessa
1 x ToughBeats kaiutin
1 x 3.5mm to 3.5mm AUX-kaapeli
1 x USB latauskaapeli
1 x Käyttöohje
---
Lisätietoja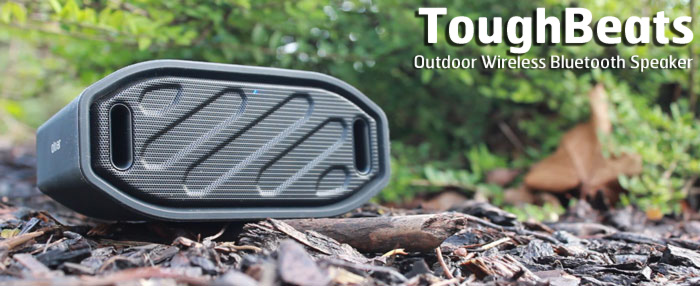 Hifi audio tarjoaa erinomaisen äänenlaadun
ToughBeats Outdoor Bluetooth kaiutin mahdollistaa terävän ja laadukkaan äänetoiston missä ikinä menetkin. Sen tehokas 3W ajuri varmistaa, että musiikki kuullaan koska sen on tarkoitus tulla kuulluksi.


Soveltuu ulkokäyttöön
Useimmat Bluetooth kaiuttimet lopettavat toimintansa ulkona sateessa, mutta ToughBeats ei säästä välitä vaan antaa juhlien jatkua. Siinä on IPX4 -luokitus, mikä tarkoittaa, että se kestää kosteutta mistä tahansa kulmasta. ToughBeats ei ole suojattuna vain sääolosuhteilta, vaan myös lialta, jota saattaa roiskua grillatessa.

Kaiuttimen kuori on valmistettu pehmeästä mutta kestävästä silikonista, joka on suunniteltu kestämään kolhuja ja iskuja, joita se voi kohdata ulkokäytössä. Vaikka se on suunniteltu käytettäväksi ulkona, soveltuu se yhtä hyvin myös sisäkäyttöön. Tämä on kaiutin kaikkiin vuodenaikoihin ja joka tilanteeseen.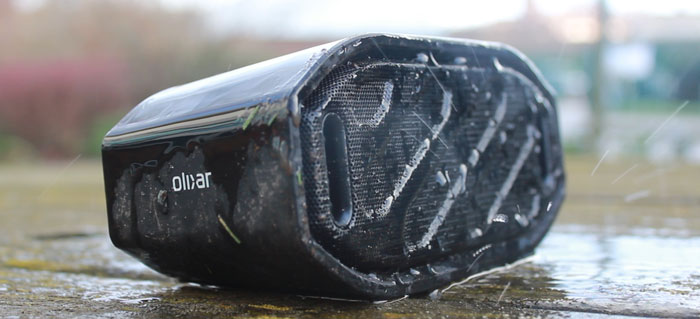 Tyylikäs ja mukana kannettava
ToughBeats Outdoor Bluetooth kaiutin on tyylikäs, kevyt ja kompakti Sen mitat ovat 160 x 70 x 70mm, joten se on helppo kantaa mukana. Sen muotoilu mahdollistaa seisomisen joko pysty- tai vaaka-asennossa.


Bluetooth ja kaapeli -liitäntä, joten sopii mille tahansa laitteelle
ToughBeats on Bluetooth-kaiutin, joten sen paritusprosessi on uskomattoman yksinkertainen. Kytket mobiililaitteeseen langattomasti ilman salasanoja. Se tukee kaikkia Bluetooth-musiikkilaitteita, ja sinun tarvitsee vain kääntää kaiutin päälle ja etsiä se laitteestasi.
Kaiutin sisältää myös 3,5 mm liittimen, jotta voit yhdistää sen myös ilman Bluetoothia.

Sisäänrakennettu mikrofoni handsfree- ja konferenssipuheluita varten
ToughBeats kaiuttimen sisäänrakennettu mikrofoni mahdollistaa handsfree- ja ryhmäpuhelut. Voit helposti vaihtaa äänenvoimakkuutta ja vastaanottaa puheluita kaiuttimen monitoimisen painikkeen avulla. Sisäinen mikrofoni on yhteensopiva Bluetooth-puhelimien, FaceTime, Skype ja muiden vastaavien sovellusten kanssa.


Sisäänrakennettu 800mAh Li-ion akku
Uudelleenladattava 800mAh akku tarjoaa jopa 6 tuntia toistoaikaa. Voit siis nauttia musiikista koko päivän. Akun täyteen lataaminen kestää noin 2 tuntia mukana tulevalla USB-latausjohdolla.
Tekniset tiedot:
Bluetooth: 2.1
Mitat: 160 x 70 x 70mm (kaiuttime koko, pakkaus suurempi)
3.5mm portti: Kyllä
Latausjännite: DC 5V
Ulostulo: 3W
Akun kapasiteetti: 800mAh
Toistoaika: 6 tuntia
Latausaika: 2 tuntia