DiCAPac Action Armband
Product part number: DP-1A
Tuotekoodi: 52514
The DiCAPac Action Armband is the perfect partner for the DiCAPac Action Waterpoof Case. With complete rotation and fully adjustable for extra comfort, you can take your phone on your adventures, no matter where they lead.
Lisätietoja
Fully Adjustable armband
The DiCAPac Action Sport Armband is built to survive the rigours of even the most intense workout regime. It has an adjustable strap with a secure hook and loop fastener that is suitable for arm sizes up to 40.5cm.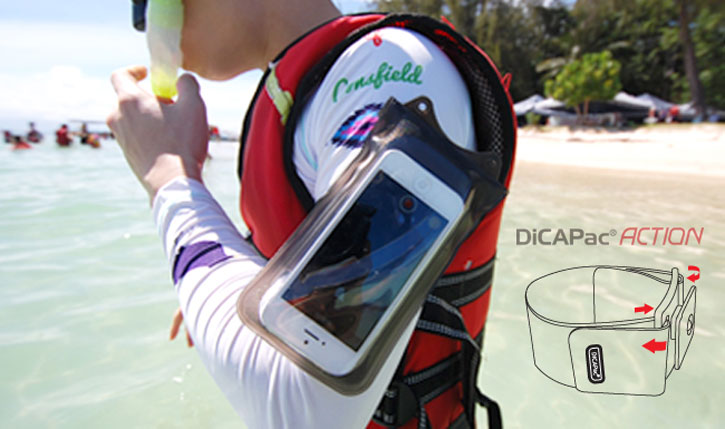 Ideal for use with DiCAPac Waterproof Action Case
Combine this armband with the Action Waterproof case and you have a fantastic solution for any workout regime, sports or fitness activity.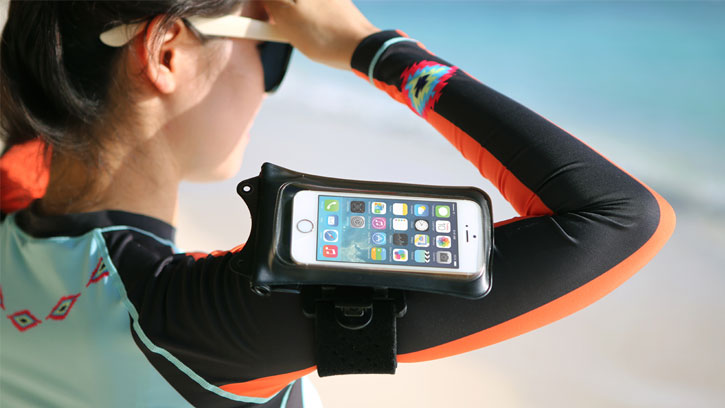 For the great outdoors
When swimming, surfing, kayaking, fishing, snorkelling, skiing and various other outdoor activities - you want to share this supremely adventurous moment by taking a photo or capturing a video. Wearing the DiCAPac for your smartphone, you can do just that while protecting your device yet still operating its key functions.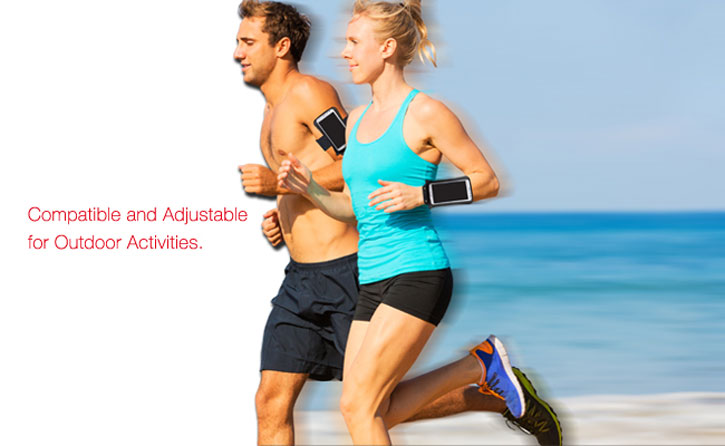 360 Degree rotation
For ease of use and comfort, you can rotate the mounting in 360 degrees.

Keskimääräinen arvio 4,6 given by 18 Asiakkaat | kirjoita arviointi
Bill Davies
Torquay
12 Toukokuu 2017
DiCAPac Action Universal Waterproof Case for Smartphones
Completely effective 1st time out
Suffered an unexpected capsize in a kayak at sea, 1st time out with my Samsung Note 3 in this case. Happily, although submerged at least half a metre for about half an hour, not a drop of water got in and the phone remained fully usable throughout. My previously trusted water proof VHF radio did not fare so well, leaked and became unusable within 5 minutes. Just shows that having the right back up kit could make the difference between life & death!
Translated from English
1 out of 1 found this helpful
---
Sharifa
Kuraby
5 Marraskuu 2016
Nice
Great product, great service.
Translated from English
0 out of 0 found this helpful
---
Ognyan Nikolov
London
17 Lokakuu 2016
Galaxy S7 Edge
Good Product
Great product,I recommend very good quality,not just cheap plastic proper,not bend and does not change colour,is work perfect with my phone,Bluetooth button connect with my device without any problem.Very good response,perfect selfy stick.
Translated from English
0 out of 0 found this helpful
---
Mike
Cork
6 Elokuu 2016
DiCaPac Action Universal Waterproof case
Great item
As I'm in the Coastguard and operate my phone in all conditions, I found this item invaluable
Translated from English
0 out of 1 found this helpful
---
HHG
New Zealand
6 Heinäkuu 2016
Great protection
Our third DiCAPac waterproof case, which we have used for Samsung Galaxy S4 and Core Prime, and a smaller version for Samsung Galaxy S4 Mini and S3 Mini. We use them in town when we travel - the lanyard keep us hands free and we don't have to worry about dropping the phone. The case is particularly useful when we go geocaching and tramping in the bush and keeps the phone dry and scratch free. Taking photos is easy and voice quality is good. The areas between the holes for the lanyard and main case can be strengthened to make the case more durable. Having said that, we insert and take the phone out of the case a few times each week and the case has lasted quite well.
Translated from English
0 out of 0 found this helpful
---
Anthony
Texas City
30 Toukokuu 2016
Zte grand Max 3
Excellent
I love my water proof case and I didn't have to spend a lot of money on it and it works wonderful.
Translated from English
0 out of 0 found this helpful
---
Jewan
VIC
21 Toukokuu 2016
Item as described
The selfie stick I purchased was as described. The packaging was good.
Translated from English
0 out of 3 found this helpful
---
Andy Stobbie
Stockport
17 Maaliskuu 2016
LG G4
Great waterproof and snow proof case
Easy to fit phone in case, with my LG G4 have to take it out of its protective (Mobile Fun) cover as its a snug fit, but slides in easily. Snap the seal closed, roll the Velcro down and you are away. Used it when snowmobiling great protection and touchscreen works through the plastic. Like the neck strap that has 2 lengths depending if it's single or double. Clips to the DiCAPac waterproof selfie stick for complete waterproof unit- note it has to be this model of case as the blue and green versions don't have the right fitting on the back.
Translated from English
0 out of 0 found this helpful
---
Andy Stobbie
Stockport
17 Maaliskuu 2016
LG G4
Well made selfie stick
Most selfie sticks appear to be no better than a car aerial with a holder on the end. This one is very well made and sturdy. And it is waterproof- or has no bits that will rust. It also integrates to the waterproof phone case to take pictures underwater. I haven't seen another product like it. One drawback the waterproof remote shutter release did not work with my LG G4, Mobile Fun very good replacing it, but the second one shows the same hiccup. So I bought a cheap remote release which worked instantly, and I can put it in a plastic bag.
Translated from English
0 out of 0 found this helpful
---
Jim
Unknown
27 Tammikuu 2016
Too much stand-off
Quality of the strap is good but the stand off of the pouch from the arm is quite large due to the mount & swivel. This causes the phone to wobble and bounce significantly while running or riding, which is quite annoying. Furthermore, the clip will just let go with a firm pull and I'm not convinced that it wouldn't do so in the middle of a run and skittle my phone. All up a bit of a disappointment and not really fit for purpose. Ditch the swivel and make it sit flush.
Translated from English
2 out of 3 found this helpful
---
Bob
Dublin
9 Tammikuu 2016
Good product
This is a good product and works well
Translated from English
0 out of 0 found this helpful
---
Christopher Rowan
Leyland
8 Joulukuu 2015
elephone P8000
Good quality waterproofing
This seems to be a solid made item fully waterproof, in fact they suggest testing it before allowing it to care for you phone. Thebitem is fully waterproof and fits my phone perfectly. It obviously makes you phone more bulky but the mounting option more than make up for that and I feel confident my phone will survive the outdoors in this.
Translated from English
0 out of 0 found this helpful
---
Malcolm
Manchester
26 Kesäkuu 2015
Note 3
Perfect rowing case
Bought this so I could use my Note 3 as a boat coach when rowing. It fits the Note 3 perfectly even with a case still on the phone. As I haven't rolled in I cannot say how good this case will be when under the boat, but it copes very well with the spray from the bungies when training, and is nice and clear. The only tiny distraction, is that the sip lock can be a bit tricky to undo, however that also means it provides a nice tight seal :)
Translated from English
3 out of 3 found this helpful
---
Shaun Tham
Nottingham
8 Kesäkuu 2015
Galaxy Note 4
A good waterproof pouch for large sized phone
I bought this for the purpose of using it for water activities, and I must say that it did not disappoint me. It was delivered quickly, and the item is of high quality. No regrets buying it!
Translated from English
3 out of 5 found this helpful