PowerUp 3.0 App Controlled Paper Airplane for iOS and Android
Product part number: 500-004
Tuotekoodi: 53431
Take to the skies with this ingenious app-controlled paper airplane, complete with rechargeable motor and rudder. Aerobatic greatness and unlimited fun awaits! Do you have the right stuff, pilot?
"Flying high"
"Great deal of fun"
"A fun gadget for someone who has everything else"
Hyödyllisimmät arviot
Nicky lee
Burmingham
Power plane blue tooth
8 Joulukuu 2016
Flying high
I bought a paper plane it was nit very expensive and a great idea. Remember when you were a kid just having fun well kit vines with paper planes yiu just girls slinger the lines and great designs euro fighter it f22 you can make your own designs and just skip this plastic rid and propeller and head if plane is a battery snd blue tooth operated from your mobile from a application down load. Ten minutes to charge up from any use port and good to go flying quite a long distance for 15 minutes . I said it fir my child but I'm 57 year old man and it was really fir me.cane in a smart box and arrived with in 5 days. I liked it do much I'm ordering a few more so I'm never without it
Alec Hayter
Southampton
Unknown
4 Marraskuu 2016
Great deal of fun
This was purchased as an Xmas present for someone who is nuts about aircraft and flying, and I cannot therefore comment on the item too fully as I must not open the packaging! However, outwardly it looks just the present for the man (in this case - not a child!) who will open it on the big day, and he will be as happy as a sandboy! From what can be seen, it appears that this is a well-made item, as well as being a good concept which will provide a great deal of fun.
Chris Paul
Croxley
Iphone
25 Elokuu 2016
A fun gadget for someone who has everything else
A fun gadget for someone who has everything else. If I win the £20 voucher for writing this review, I'd be sure to use the voucher buying another one.
59 Arviot
|
kirjoita arviointi
---
Lisätietoja

Up, up and away!
Look, up there. Is it a bird? Is it a plane? Well, yes - it is a plane. A paper airplane in fact, and it's yours to command via your smartphone or tablet. This ingenious aerobatic marvel is the ultimate evolution of what started every aeronautical engineering genius on their path - the paper airplane! Did you ever make them when you were little? Maybe you still do? Tweaking away to get an extra few feet out of that monster glide. Well this one will glide, climb, turn and dive at your command. Just download the app, power up the motor, assemble your airplane, and get to it, pilot!
The only limit is your imagination
The world is your oyster and the sky your playground. The only limit is your imagination. There are several designs included in the box and plenty more available online. But you can also experiment and tweak to your hearts content. Find an open space and have at it. Why not get a friend or family member involved too while you're at it for aerobatic displays and mock dogfights? The more the merrier. There is suitable paper in the box but most stiff lightweight card will suffice. And if you happen to crash, no problem. All the materials involved are designed to take the punishment of frequent trips to terra firma. Dust it off, and reach for the sky again and again.
Recharge your motor's battery via USB cable
When your battery is running low, bring the old kite down and plug her in. It couldn't be simpler. The included charging cable can be plugged into a PC, laptop or mains charger. Or if you're out and about, you could use a power bank or portable charger. Please search for our power banks and portable chargers if this is of interest to you.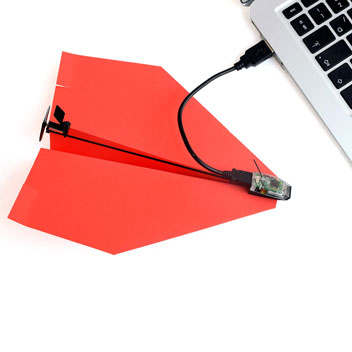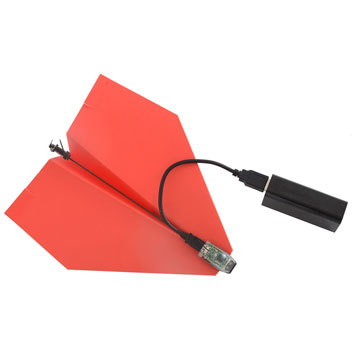 Works on iOS and Android
Connects to iOS (iPhone 4S or later) or Android devices (4.3 or later). These are basic requirements, optimisation and results may vary. The app is very intuitive and comprehensive allowing full control. It will take some practice before you're an ace, but that's all part of the fun, right? Here's an example of what you can do: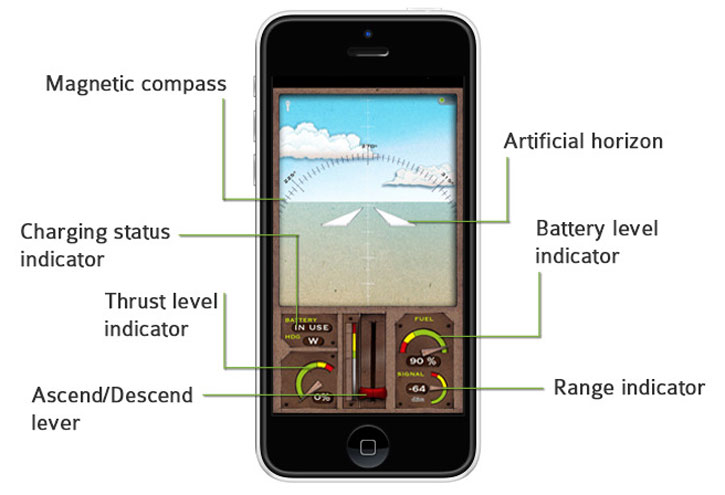 Not suitable for children under 14 years
While this is a fantastic and unique toy for the big kids, its really not suitable for those under 14. Adult supervision is recommended at all times.