Baseus Smart Solar Powered Wireless Vent Car Phone Mount - Black
Lakkautettu
- not available for purchase
Securely lock your phone safely into place with the Baseus Smart Solar Powered Wireless Vent Car Phone Mount. With auto-sensing and auto-locking features built in - powered by solar power - you can rest assured that your phone will stay in place!
Key Features
Smart sensing and auto-lock features
Solar power-driven
Rechargeable battery with USB-C
One-handed pickup and place
Anti-drop engineering
Description

Conveniently and securely lock your phone into place while you drive - easily navigate maps or your music playlists with easy viewing angles! With auto-sensing and lock features all powered by solar power!
Solar power-driven
The monocrystalline silicon solar panel improves the efficiency of light energy conversion. The battery keeps stores energy to maintain sensing and auto clamping features without the device needing external power from a plug! Clean and convenient energy conversion!
Charge once, use for a month
Sometimes it can be rainy - especially in the long winter months and this can leave some solar-powered devices useless! With the Baseus Smart Solar Powered Wireless Vent Car Phone Mount there's no need to worry! With a USB-C charging port, this device can be powered by conventional methods of charging - meaning you won't be left in the dark! Charge once using the USB-C charging cable included and get up to a month worth of power!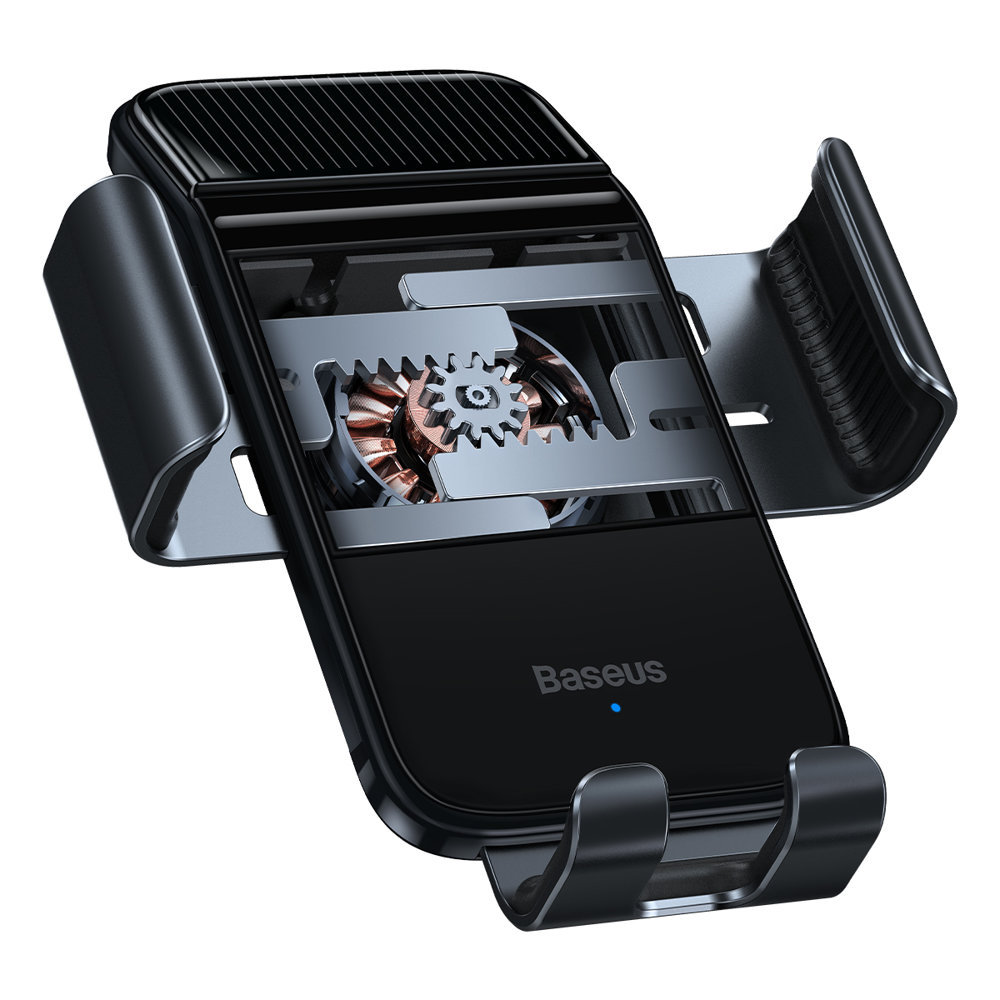 Electric clamp, auto-lock
The Infrared sensor is triggered once placing a phone on the device! Once the device is in place it will be securely locked into place automatically!
One-handed pick-up!
The Baseus Smart Solar Powered Wireless Vent Car Phone Mount has auto-sensing ability and one-handed pick-up! To pick your phone up from the device, simply press the button on the back of the device and it will automatically release the device!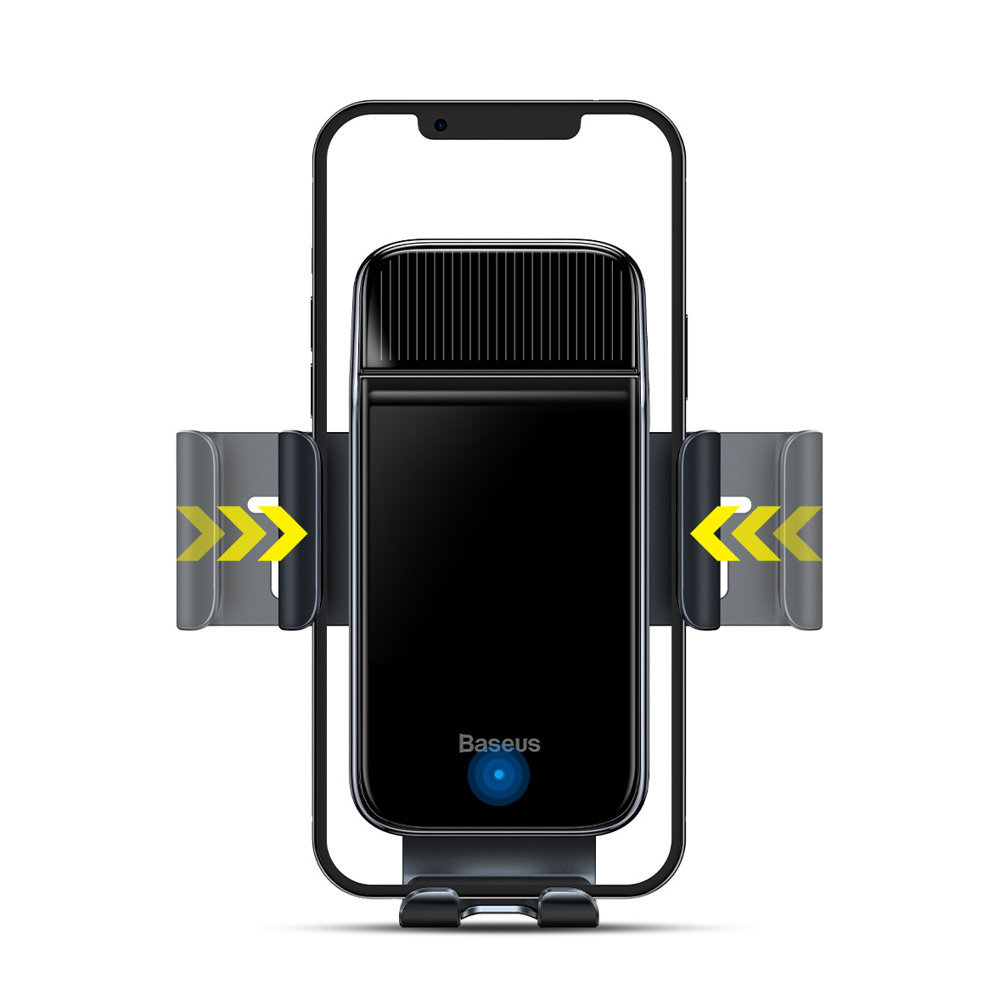 Stable anti-shake
Sometimes roads can be a little bumpy which is why Baseus implemented anti-shake technology! Metal arm clamps lock your phone in two directions to ensure that your phone will stay stable and secure throughout your drive, whether your phone is in landscape mode or portrait!
Reinforced air vent clip
The upgraded triangle air vent clip can fasten to the air vent of your car securely, reinforced by the two supporting legs on either side! Suitable for vertical or horizontal air vents!
Fits most phones
Designed to fit most phones that are between 4.7 inch to 6.7 inch screens! For example, this would be great for the iPhone SE (4.7 inches), iPhone 12 (6.1 inches), Huawei P40 Pro (6.58 inches), or the Xiaomi 10 Pro (6.67 Inches). If you'd like to know if your phone is compatible just google the device you have and look for the screen size on the phone specifications!
Omat tiedot
| | |
| --- | --- |
| Part No | SUZG000001 |
| UPC | 6932172600778 |
| Mobile Fun ID | 89492 |
| Colour | Black |
| Brand Name | Baseus |
Toimitus & Palautus
Perus postilähetys: 4,50€
Edullinen, luotettava postipalvelu, sopii kiireettömille tilaukseille. Tämä palvelu on jäljittämätön. Lähetys toimitetaan yleensä 5-10 arkipäivän kuluessa.
DHL Express palvelu: 28,00€
Nopea, turvallinen ja luotettava palvelu. Etuna täysi jäljityspalvelu, jonka avulla voit seurata pakettisi kulkua matkan varrella. Lähetys toimitetaan yleensä 1-3 arkipäivän kuluessa.
Jos tilauksesi on alle 150 € ilman toimituskuluja, ALV sisältyy jo hintaan, jonka maksat kassalla. Tämä tarkoittaa, että maksua ei makseta arvonlisäveroa, kun tilauksesi toimitetaan sinulle. Jos tilauksesi on yli 150 €, sinulta ei veloiteta arvonlisäveroa kassalla, ja saat tämän vuoksi tämän erillisenä maksuna paikallisen ALV-kantasi perusteella.


Huomautus:

Arvioidut saapumisajat on otettu suoraan kuriiridemme antamista tiedoista. Nämä ovat vain arvioita, MobileFun ei ole vastuussa, jos tämä vaihtelee.
Kaikki tuotteet toimitetaan varastoltamme Isossa-Britanniassa.
Puuttuvat tai viivästyneet tuotteet: Huomaa, että meidän on odotettava 25 työpäivää, ennen kuin voimme jäljittää, korvata tai palauttaa kadonneet tuotteet.
Postipalvelu ei ole käytettävissä arvokkaille tilauksille, vaan pikalähetystapaa käytetään.