Baseus Solar Powered Wireless FM Transmitter & In-Car Phone Charger - Black
Lakkautettu
- not available for purchase
Wirelessly play your music through the Baseus Solar Powered Wireless FM Transmitter & Car Charger! Use the FM transmitter wireless, aux, SD cards or USB drives to play your favourite music! You can also charge your device using the USB-A or USB-C port!
Key Features
Wireless connectivity via Bluetooth version 5.0
Hands-free function
USB slot, micro SD card slot, AUX
Built-in 700mAh battery
Solar and USB-C charging
Operating Range: 87.5-99.9MHz
Memory Function and Auto-Reconnection - plays where you left off
Description

Play your music and do your part for the environment! With the Baseus Solar Powered Wireless FM Transmitter & In-Car Phone Charger, you can cut down your carbon footprint whilst still enjoying wireless music playback in your car!
Solar Powered Music Playback
With the Baseus Solar Powered Wireless FM Transmitter & In-Car Phone Charger, you can harness the power of solar energy to charge your device! You can ditch the plug and mains charger and leave your Baseus FM Transmitter and In-Car Phone Charger in the sun for just over an hour (75 minutes) and you're good to go! Just in case, a USB-C charging cable is provided for those cloudy days!
Easy Installation
To install the device - simply remove the adhesive backing on the base of the device - stick it onto your windscreen in the most comfortable location, and the quality-control tested magnetic batteries will keep the FM transmitter attached to the base! No need to worry about the magnetics, Baseus has tested the best magnet technology available to ensure your device will always stay put!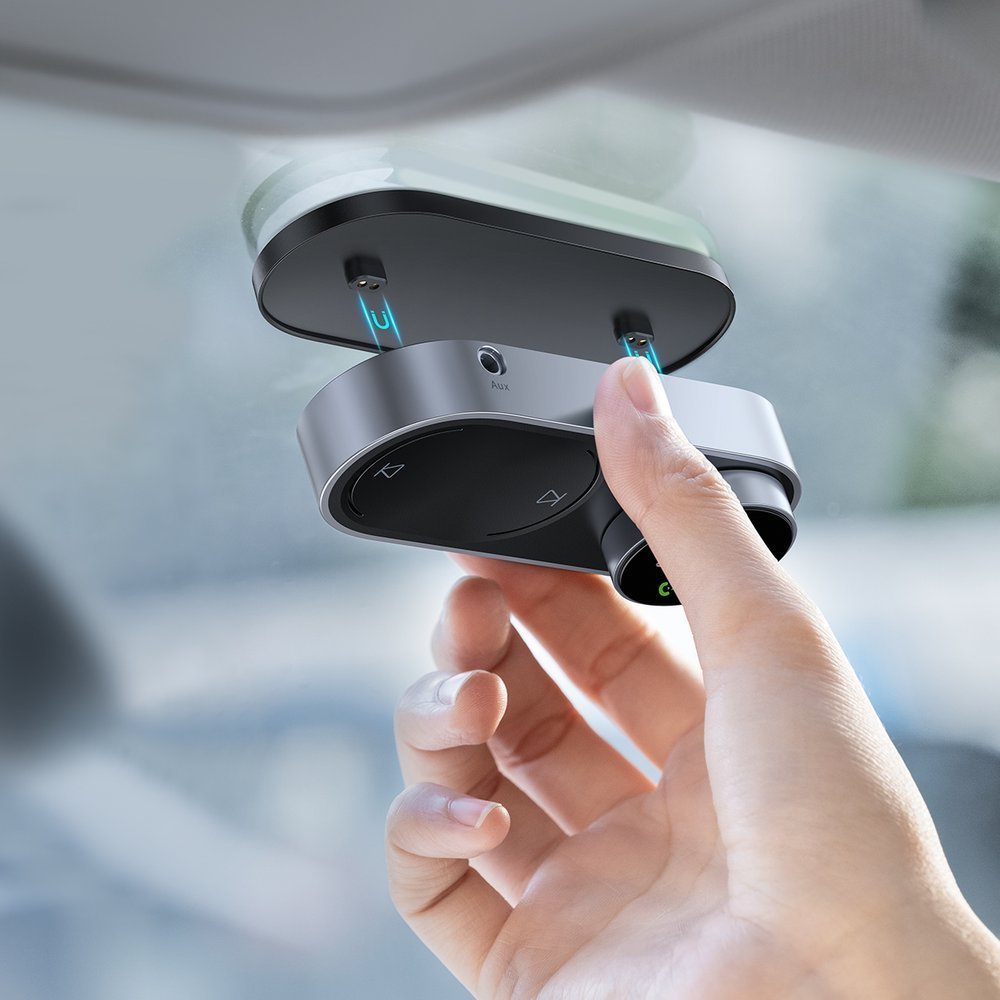 4 Incredible Ways To Play Your Music
The Baseus Solar Powered Wireless FM Transmitter & In-Car Phone Charger has 4 ways to play your music, including wireless Bluetooth technology, AUX cable, USB drives and Micro SD!
Create Your Own Radio Station With The FM Transmitter
The FM transmitter is incredibly easy to set up! Simply set the FM transmitter to an empty radio station and tune your car radio to the same station - instantly create your own station with your favourite music and playlists and forever avoid annoying adverts and switching the station to find a song you like!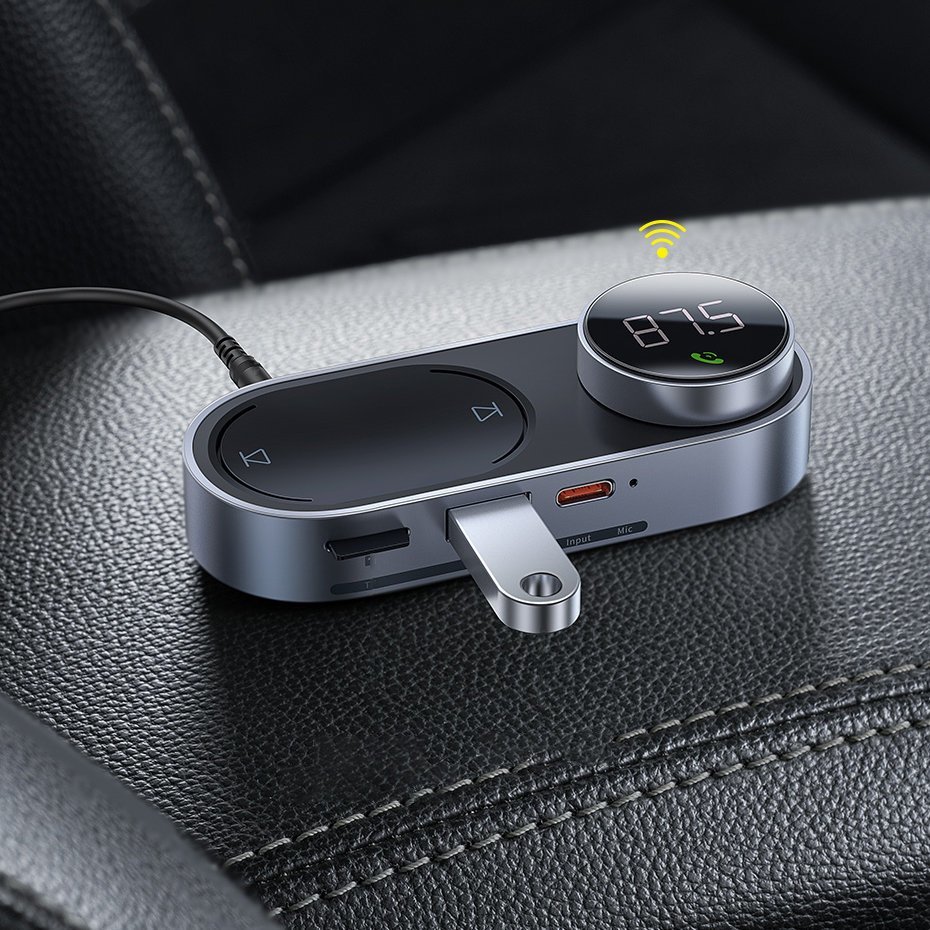 Specifications :
SD Card Slot: Support max 32GB cards
Ports: USB-A, USB-C for fast charging (5V/750 mA max.), AUX
Additional Features: HD Microphone
Solar charging panels: Monocrystalline silicon
Colour: Black and Silver Accents
Material: Plastic
Frequency Range: 87.5MHz~99.9MHz
Battery: 700mAh
Display: LED
Bluetooth 5.0: Stable range up to 5 m
Dimensions: Approx. 93 x 33 x 25 mm
Weight: Approx. 77 g

What's in the box?
1 X Baseus Solar Powered Wireless FM Transmitter & In-Car Phone Charger
1 X USB-A to USB-C charging cable
Omat tiedot
| | |
| --- | --- |
| Part No | CDMP000001 |
| UPC | 6932172600556 |
| Mobile Fun ID | 89221 |
| Colour | Black |
| Brand Name | Baseus |
Toimitus & Palautus
Perus postilähetys: 4,50€
Edullinen, luotettava postipalvelu, sopii kiireettömille tilaukseille. Tämä palvelu on jäljittämätön. Lähetys toimitetaan yleensä 5-10 arkipäivän kuluessa.
DHL Express palvelu: 28,00€
Nopea, turvallinen ja luotettava palvelu. Etuna täysi jäljityspalvelu, jonka avulla voit seurata pakettisi kulkua matkan varrella. Lähetys toimitetaan yleensä 1-3 arkipäivän kuluessa.
Jos tilauksesi on alle 150 € ilman toimituskuluja, ALV sisältyy jo hintaan, jonka maksat kassalla. Tämä tarkoittaa, että maksua ei makseta arvonlisäveroa, kun tilauksesi toimitetaan sinulle. Jos tilauksesi on yli 150 €, sinulta ei veloiteta arvonlisäveroa kassalla, ja saat tämän vuoksi tämän erillisenä maksuna paikallisen ALV-kantasi perusteella.


Huomautus:

Arvioidut saapumisajat on otettu suoraan kuriiridemme antamista tiedoista. Nämä ovat vain arvioita, MobileFun ei ole vastuussa, jos tämä vaihtelee.
Kaikki tuotteet toimitetaan varastoltamme Isossa-Britanniassa.
Puuttuvat tai viivästyneet tuotteet: Huomaa, että meidän on odotettava 25 työpäivää, ennen kuin voimme jäljittää, korvata tai palauttaa kadonneet tuotteet.
Postipalvelu ei ole käytettävissä arvokkaille tilauksille, vaan pikalähetystapaa käytetään.