Braven Stryde 360 Portable Waterproof Wireless Speaker - Black
Lakkautettu
- not available for purchase
This Braven Stryde 360 speaker brings life to the party anywhere you go with the powerful Bluetooth audio. Its useful cylindrical shape fits in any cup holder, whilst the waterproof design makes it a portable & versatile speaker, both indoors & outdoors.
Most Helpful Reviews
Arviot
289187

GREAT COMPACT SPEAKER PACKS A GREAT CLEAR SOUND FOR SOMETHING SO SMALL WOULD RECOMMEND

| | |
| --- | --- |
| | Robert Fitzjohn |
| | ST ALBANS |
| | 1st Heinäkuu 2021 |
Key Features
Powerful audio brings life to the party
Portable, cylinder shape fits easily in cup holders and water bottle cages
Waterproof for up to 30 minutes at 1m submersion
Built in voice control
Description
The Braven Stryde 360 is a cylindrical, waterproof speaker capable of 360 degree surround sound for the active listener in all of us. We designed this speaker in our Active Series to be perfect for those on an adventure. It fits in nearly all cup holders, meaning that it can safely stay in your bike or bags cup holder whilst you're on the go. The new voice command features set this speaker apart, meaning not only can you control the speaker using the buttons on the speaker but you can also next, pause and play songs using voice command.
Powerful audio brings life to the party
Get lost in the music with the the Braven Stryde 360 Portable & Waterproof wireless speaker that can be heard clearly from up to 100 feet away. Whether in the house or in the garden, the powerful dual speakers provide crisp sound quality, perfect for keeping the kids entertained, bringing life to a summer's day in the garden or to set the mood for a chilled night with your favourite tunes.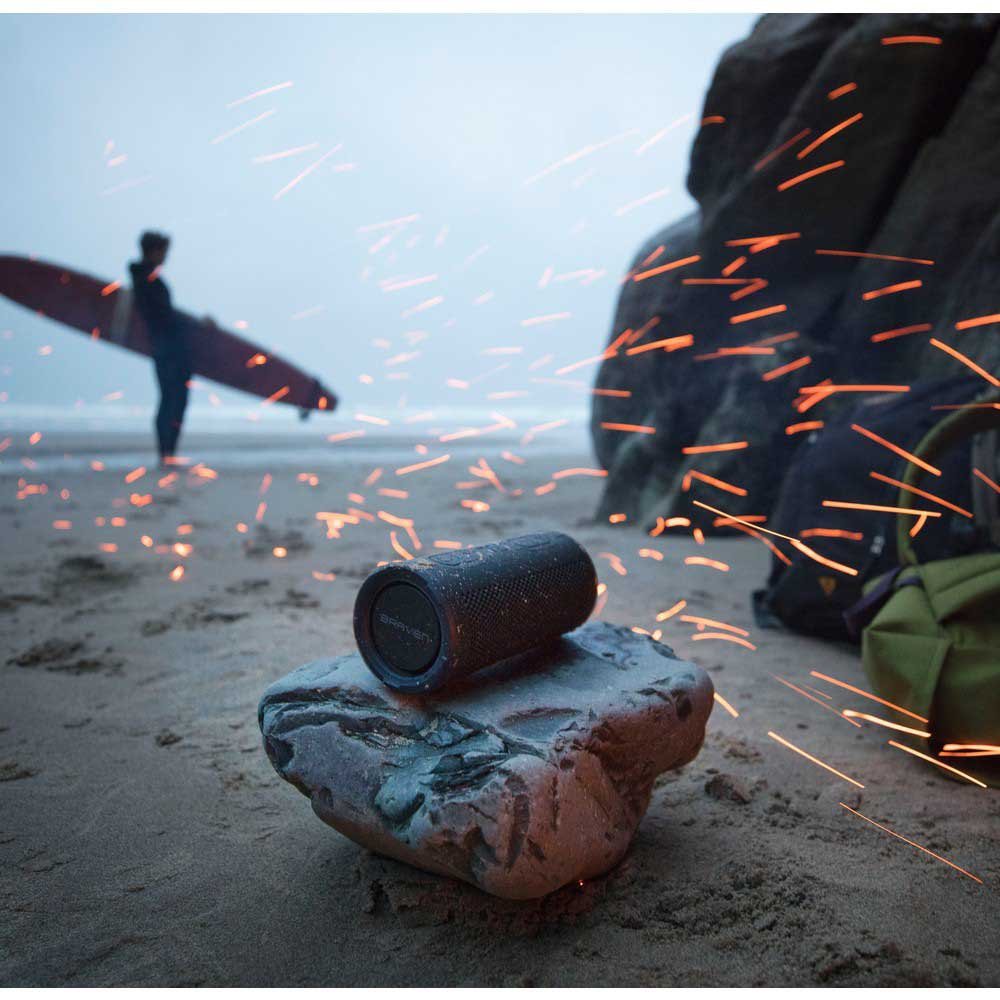 Portable, cylinder shape fits easily in cup holders and water bottle cages
The battery powered BRV-360 does not require any wires whilst in use, making it the perfect speaker to take to your friends house and on any of your outdoor adventures. With that in mind, Braven have created this speaker to fit easily in cup holders and water bottle cages, and is lightweight enough for backpacks, sports bags and purses - making it the perfect speaker for on the go. Whether you're a cyclist riding around the country side, or a hiker climbing a mountain; whatever it is, you can easily put the speaker into the cup holder in your bag or on your bike. Once attached, play your favourite song and immerse yourself fully into your adventure; with your own chosen soundtrack.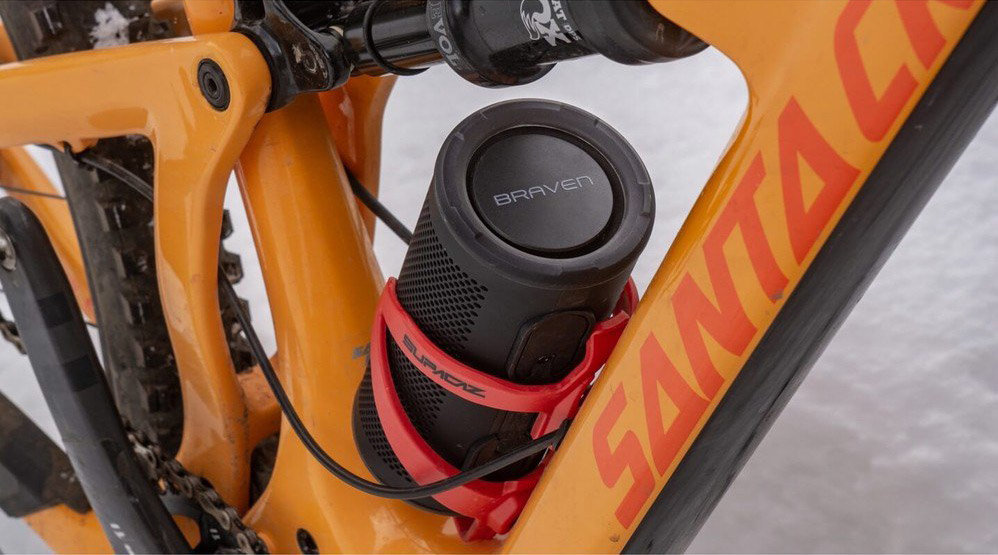 Waterproof for up to 30 minutes at 1m submersion
The Braven Stryde 360 speaker is versatile and portable with its useful, waterproof (IP67 certified) design. Built to withstand 1m of water submersion for up to 30 minutes, don't be alarmed if it starts to rain whilst on your adventure as it will be protected against the elements. This means that you can even take this with you when you go swimming, as it will carry on giving out high-quality audio, even if it gets splashed!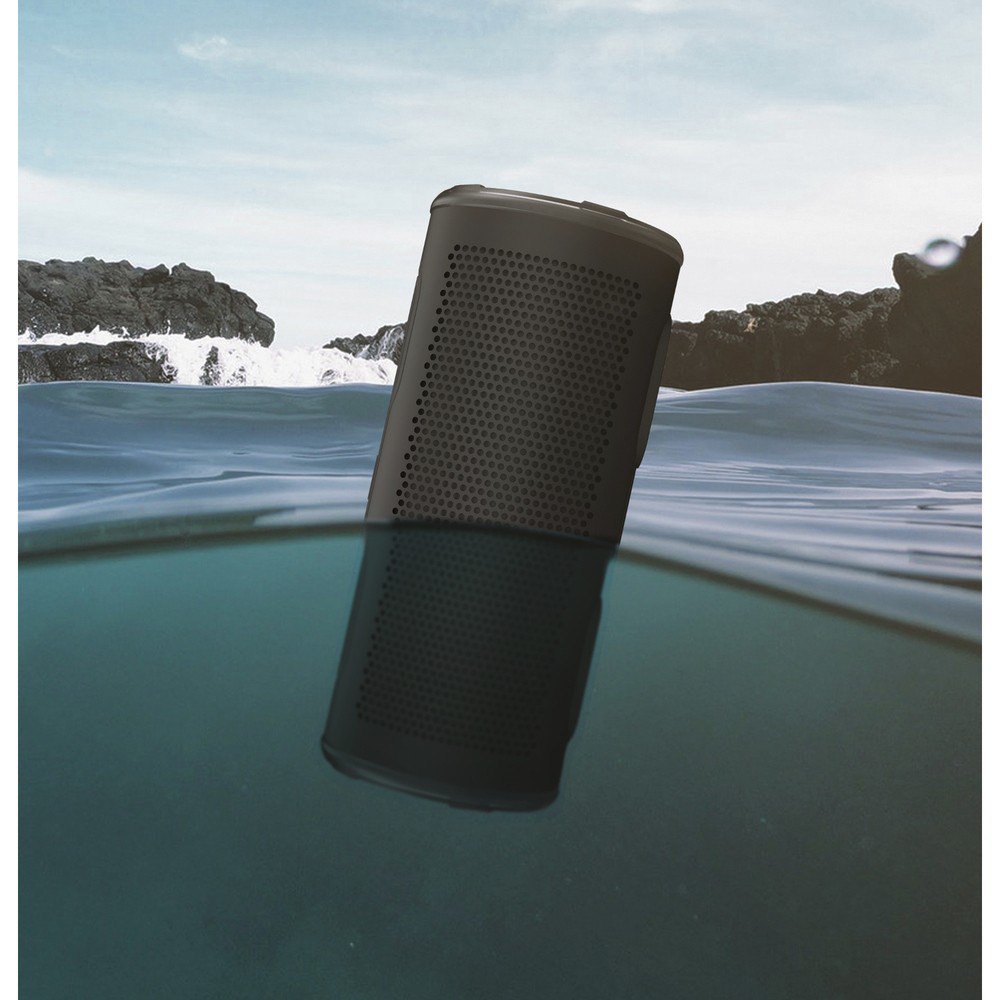 Built in voice control
The built-in voice control works with your smartphone for commands and hands-free calls; this means that you can use this speaker to not only listen to music and skip a song when one you don't like comes on, but also you can use it to answer calls when you may be out on an adventure, with no hands free.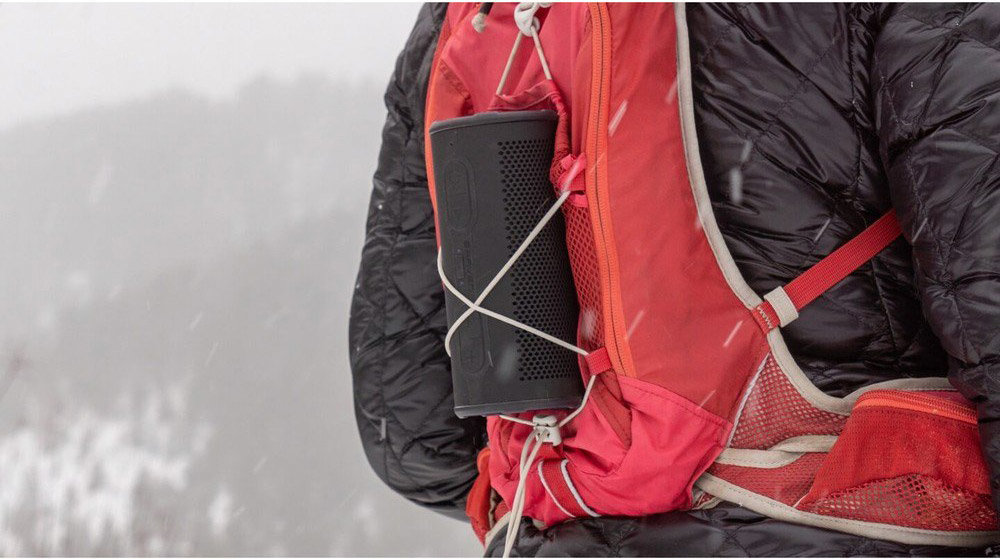 Specifications:
- RMS rated power: 14 W.
- Connectivity technology: Wireless.
- Product type: Stereo portable speaker
- Protection features: Shock resistant.
- Recommended usage: Tablet / Smartphone.
- Power source type: Battery
- Battery performance: 5000 mAh
- Battery voltage: 5 V

Omat tiedot
| | |
| --- | --- |
| Part No | BBRVFCBB |
| UPC | 0817729014283 |
| Mobile Fun ID | 85316 |
| Colour | Black |
| Brand Name | Braven |
Toimitus & Palautus
Perus postilähetys: 4,50€
Edullinen, luotettava postipalvelu, sopii kiireettömille tilaukseille. Tämä palvelu on jäljittämätön. Lähetys toimitetaan yleensä 5-10 arkipäivän kuluessa.
DHL Express palvelu: 28,00€
Nopea, turvallinen ja luotettava palvelu. Etuna täysi jäljityspalvelu, jonka avulla voit seurata pakettisi kulkua matkan varrella. Lähetys toimitetaan yleensä 1-3 arkipäivän kuluessa.
Jos tilauksesi on alle 150 € ilman toimituskuluja, ALV sisältyy jo hintaan, jonka maksat kassalla. Tämä tarkoittaa, että maksua ei makseta arvonlisäveroa, kun tilauksesi toimitetaan sinulle. Jos tilauksesi on yli 150 €, sinulta ei veloiteta arvonlisäveroa kassalla, ja saat tämän vuoksi tämän erillisenä maksuna paikallisen ALV-kantasi perusteella.


Huomautus:

Arvioidut saapumisajat on otettu suoraan kuriiridemme antamista tiedoista. Nämä ovat vain arvioita, MobileFun ei ole vastuussa, jos tämä vaihtelee.
Kaikki tuotteet toimitetaan varastoltamme Isossa-Britanniassa.
Puuttuvat tai viivästyneet tuotteet: Huomaa, että meidän on odotettava 25 työpäivää, ennen kuin voimme jäljittää, korvata tai palauttaa kadonneet tuotteet.
Postipalvelu ei ole käytettävissä arvokkaille tilauksille, vaan pikalähetystapaa käytetään.