Hottea USB Powered Cup / Mug Warmer
Lakkautettu
- not available for purchase
Never let a hot drink go cold again with the Hottea USB powered cup and mug warmer. Working perfectly with computers, laptops and Macs, the Hottea gently keeps your drink at the perfect temperature so you know you'll always have a hot beverage to hand.
Toimitusvaihtoehdot:

Fast and secure shipping available
Quick and easy 30 day returns
Secure checkout using 256 bit encryption
Customer service on hand
Sign up for a Business Account
Most Helpful Reviews
Arviot
194187

| | |
| --- | --- |
| | Kiti |
| | MB Air |
| | Florida |
| | 17th Marraskuu 2017 |

Fat Bottomed Mugs Need Not Apply

189706

It does the job, keeping mugs of tea warmer for longer. My only criticisms are that fat bottomed mugs won't fit; you make want to measure your favourite mug before ordering! The on/off switch also requires a lot of force to actuate; it ended up being easier to unplug it when not needed. Still, for the price there's not much you can complain about!

| | |
| --- | --- |
| | William |
| | Happy Lemon Mug |
| | North Yorkshire |
| | 21st Elokuu 2017 |
Miksi?
Keeps your hot drinks hot for longer
Perfect for tea and coffee
Quick and easy set up
Stylish and compact, perfect for use on the go or at home
On / Off button facility
Description
Keeps your hot drinks hot for longer
Ever been working so hard that you've forgot to drink your hot cup or tea or coffee and then been left with a cold, undrinkable beverage? How annoying is that? And now you have to go and waste another 10 minutes making another one, and the same thing might happen again too, right? Well the Hottea USB powered Cup Warmer alleviates this problem by gently heating your cup or mug and keeping it warm, meaning that even when working or gaming hard, you'll always have a nice warm drink at the end of it.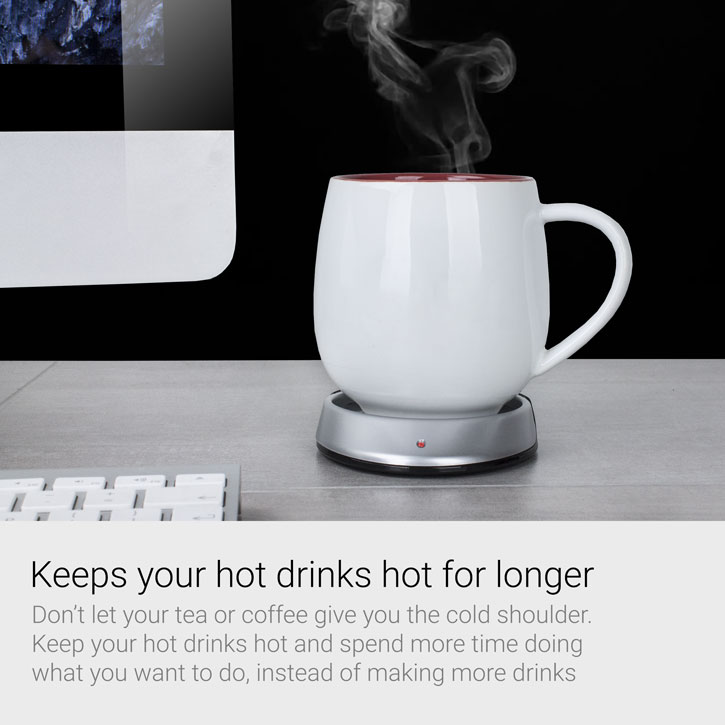 So, keep your tea, coffee, soup or whatever your hot drink of choice is warmer for longer with the Hottea.
Quick and easy set up
Using the Hottea couldn't be easier and all you need is a spare USB port. There are no drivers or software, simply plug it into any available USB port and within seconds it's reached temperature via the metal hot plate. Be careful not to touch the plate for any period of time as it can get quite warm.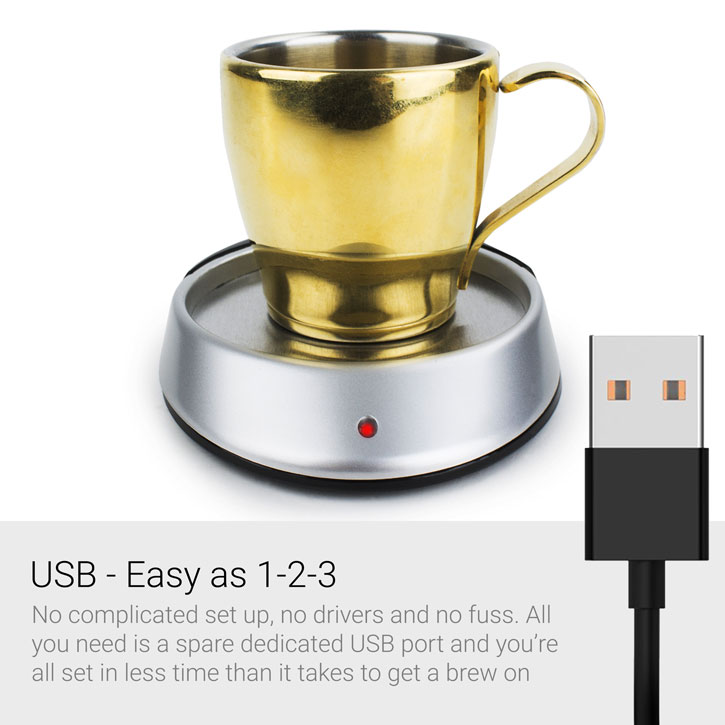 Stylish and compact, perfect for use on the go or at home
Modern style with no frills, and will look the part next to any PC or at any workstation, the Hottea USB Cup Warmer looks fantastic on any desk within any environment and even better, due to its incredibly portable design you can take it with you from desk to desk. You don't even need a desk in fairness, you could have a Hottea next to your chair in the lounge and it will work just as well. All you need is access to a USB port and a metre distance (the cable is 1.2m) to your desired location. That could be a PC or a mains charger or USB hub.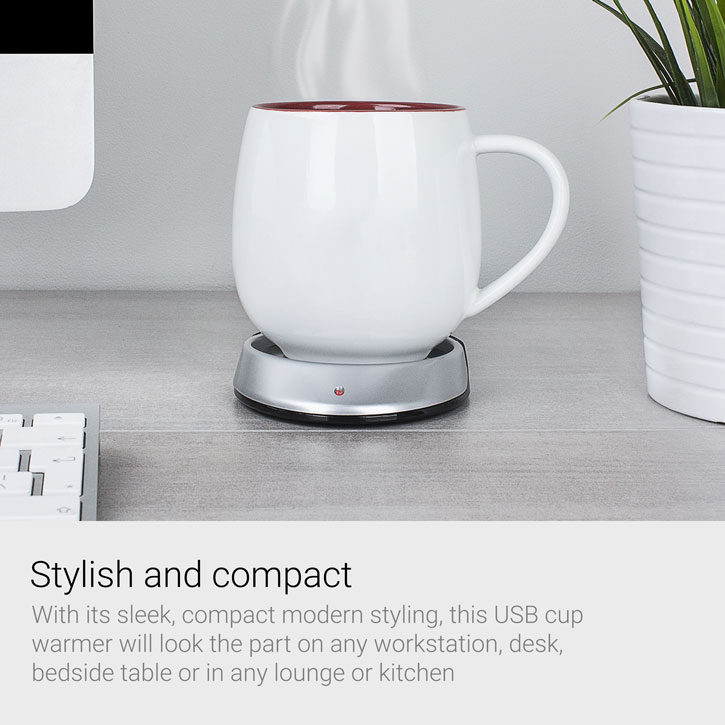 On / Off button facility
With the on / off button to the side of the Hottea, you can easily control the power without fiddling around with wires beneath your desk. We do recommend that you turn it off when not in use. Firstly because it's using power and wasting tat costs money and the environment, and secondly because very young children may touch it. Please also make sure you unplug the USB cable before cleaning the plate.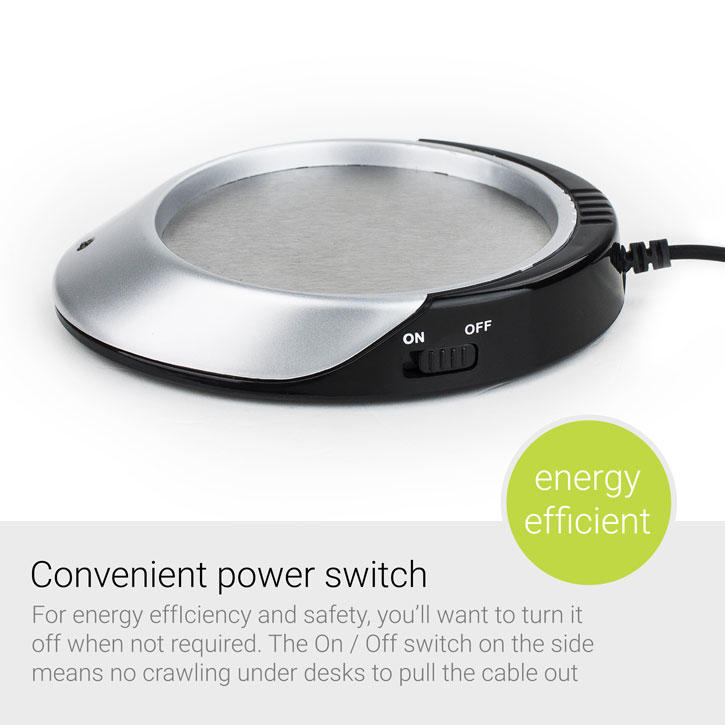 A note on compatibility and usage
Firstly, the Hottea has a circular recess to accommodate cups and mugs with a maximum of 75mm in diameter at the bottom. Secondly, better results can be achieved by using metal coffee cups and the like, but it's not essential. The power is 2.5W @ 5V DC. Power will be reduced when sharing with other devices so whenever possible try and provide a dedicated USB port for the Hottea. Once again, it's good practice to switch off the power when not in use.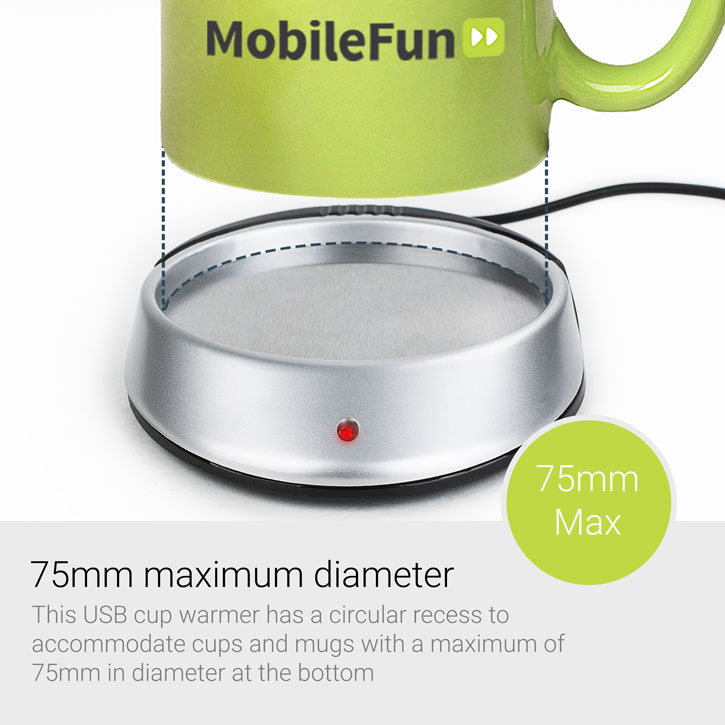 Omat tiedot
| | |
| --- | --- |
| UPC | 5020133804677 |
| Colour | Black, Silver |
Delivery & Returns
Perus postilähetys: 3.99€
Edullinen, luotettava postipalvelu, sopii kiireettömille tilaukseille. Tämä palvelu on jäljittämätön. Lähetys toimitetaan yleensä 5-10 arkipäivän kuluessa..

Jäljitettävä lähetyspalvelu: 12,49 €
Jäljitettävä postipalvelu. Lähetys toimitetaan normaalisti 3-5 arkipäivässä.
DHL Express palvelu: 16.59€
Nopea, turvallinen ja luotettava palvelu. Etuna täysi jäljityspalvelu, jonka avulla voit seurata pakettisi kulkua matkan varrella. Lähetys toimitetaan yleensä 1-3 arkipäivän kuluessa.