iOttie Easy One Touch 2 Vent & CD Slot Wireless Charger Mount - For Android And iPhone
The Easy One Touch 2 Wireless Air Vent and CD Mount features Qi wireless charging for use with your Android or iPhone. Mount smartphones in seconds with the U.S. patented Easy One Touch mechanism - making mounting and wireless charging easier than ever.
Key Features
Provides in-car wireless charging for your Qi-enabled phone
U.S-patented Easy One Touch mechanism
Adjustable foot with a button
Easy installation into CD slot or Vent
Sleek and compact design to match your handset
Description
Want to conveniently read Google Maps and charge your phone at the same time? Well, with this high-quality, sleek, charging mount from iOttie you can do just that! Fit your device to the wireless charger safely and use your device hands-free in the care! Be able to read directions safely whilst knowing your phone is safely charging.


Provides Fast In-Car Wireless-Charging For Your Qi-Enabled Phone
Designed for quick and intuitive fast charging, the iOttie Qi Wireless Charging Car Holder/Charger allows you to safely and quickly charge your Qi-enabled smartphone without the mess of charging cables. The iOttie car holder uses Qi induction technology to charge your phone quickly and easily once it is placed into the holder. For more information about wireless charging click the 'Wireless Charging Guide' banner above.
U.S patented Easy One Touch mechanism
This new Easy One Touch 2 technology has new patented technology, which offers a perfect one-handed motion, allowing you to safely focus on the road ahead - making road trips a breeze!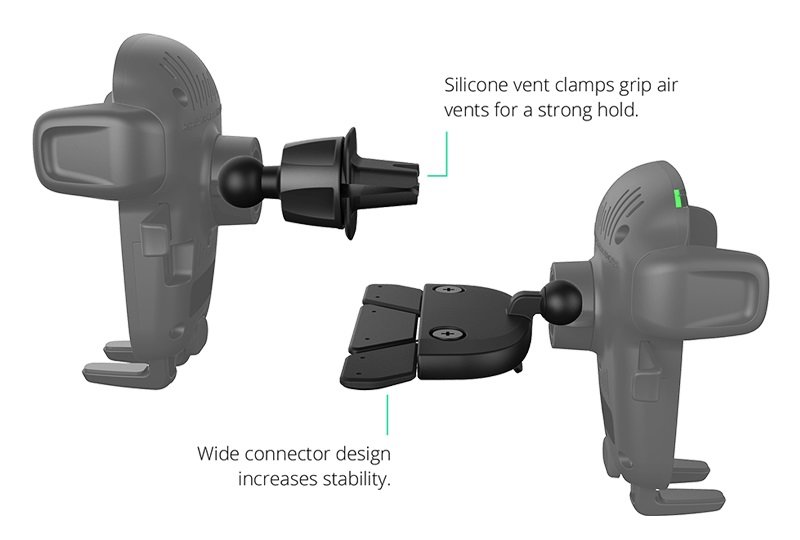 CD Slot Installation
Choose between installing the mount into your car's CD Slot by simply inserting it into the CD slot as you would a CD or use the safe and secure twist-lock air vent installation method. Both are easy, secure and convenient.
Safe And Secure Twist-Lock Air Vent
The Easy One Touch Wireless 2 features a brilliant new twist lock. As the name suggested, simply insert the vent clip onto your dashboard vent blade and then twist until the mount locks firmly into place. Installation is quick and easy and your phone is guaranteed to stay safe and secure, leaving you to focus on the road ahead.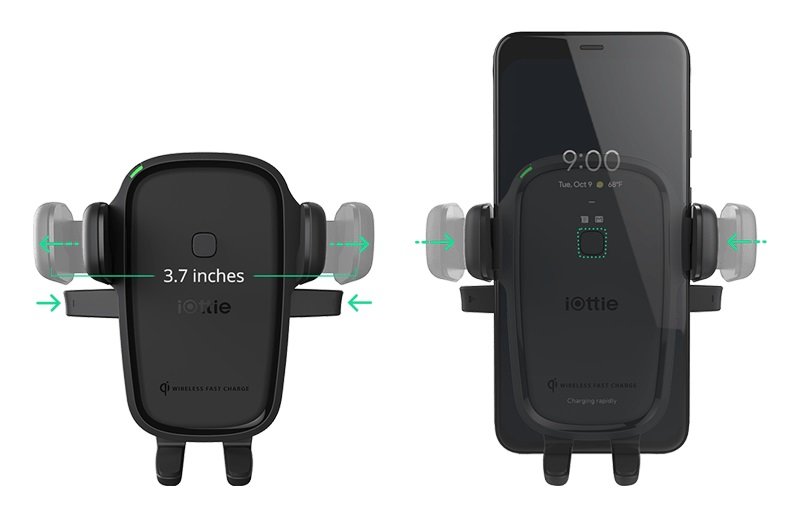 Adjustable Mount Size - Perfect For Every Device
The lower portion of the iOttie car mount is adjustable - allowing you to align your device for seamless wireless charging. Simply push the bottom (or foot of the mount) for a smaller device, or easily pull it down for a bigger device (up to 6.3") perfect for the pro and max devices of today's market!
Sleek and compact design to match your handset
Designed to perfectly complement your Handset, the iOttie in-car phone mount is designed to reflect the contemporary and sleek styling of all recent smartphones, functional and attractive all in one device!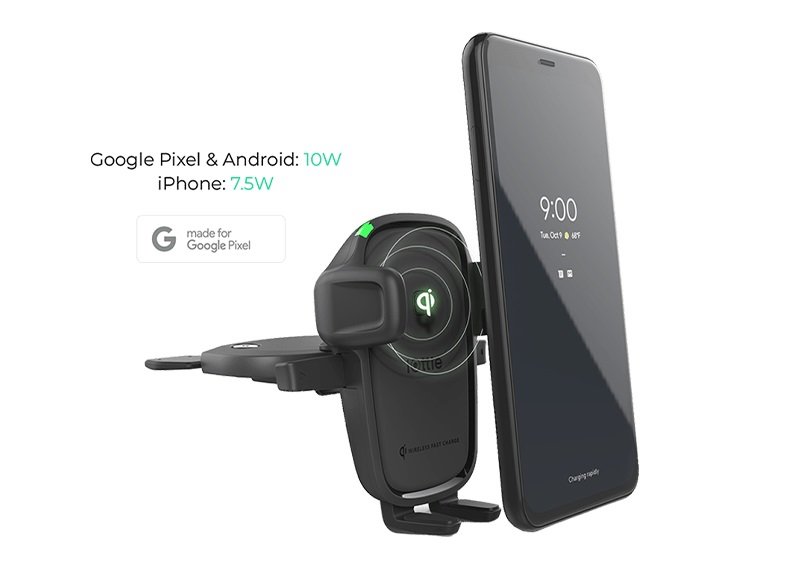 Omat tiedot
| | |
| --- | --- |
| Part No | HLCRIO143 |
| UPC | 0857199008252 |
| Mobile Fun ID | 89282 |
| Colour | Black |
| Brand Name | iOttie |
Toimitus & Palautus
Perus postilähetys: 4,50€
Edullinen, luotettava postipalvelu, sopii kiireettömille tilaukseille. Tämä palvelu on jäljittämätön. Lähetys toimitetaan yleensä 5-10 arkipäivän kuluessa.
DHL Express palvelu: 28,00€
Nopea, turvallinen ja luotettava palvelu. Etuna täysi jäljityspalvelu, jonka avulla voit seurata pakettisi kulkua matkan varrella. Lähetys toimitetaan yleensä 1-3 arkipäivän kuluessa.
Jos tilauksesi on alle 150 € ilman toimituskuluja, ALV sisältyy jo hintaan, jonka maksat kassalla. Tämä tarkoittaa, että maksua ei makseta arvonlisäveroa, kun tilauksesi toimitetaan sinulle. Jos tilauksesi on yli 150 €, sinulta ei veloiteta arvonlisäveroa kassalla, ja saat tämän vuoksi tämän erillisenä maksuna paikallisen ALV-kantasi perusteella.


Huomautus:

Arvioidut saapumisajat on otettu suoraan kuriiridemme antamista tiedoista. Nämä ovat vain arvioita, MobileFun ei ole vastuussa, jos tämä vaihtelee.
Kaikki tuotteet toimitetaan varastoltamme Isossa-Britanniassa.
Puuttuvat tai viivästyneet tuotteet: Huomaa, että meidän on odotettava 25 työpäivää, ennen kuin voimme jäljittää, korvata tai palauttaa kadonneet tuotteet.
Postipalvelu ei ole käytettävissä arvokkaille tilauksille, vaan pikalähetystapaa käytetään.