Olixar Anti-Hakkerointi Webkameran puhelimet Läppäreihin jaTableteihin
Päihitä hakkerit tällä 3-pakkauksella ruosrumattomasta teräksestä valmistetuja webkameran suojuksia läppäreihin, tabletteihin ja älypuhelimiin. Salli tai evää pääsy mobiililaitteidesi kameroihin nopeasti tällä liukuvalla suojalla. Helppo, low tech ratkaisu high tech ongelmaan.
| | |
| --- | --- |
| | |
---
| | |
| --- | --- |
| | |
Most Helpful Reviews
Arviot
282221

| | |
| --- | --- |
| | Mr Mark Haydock |
| | 21st Tammikuu 2021 |

277117

Great product despite one not sticking to my mobile. Perfect for iPad and laptop. Had forgotten mobile had film protector over screen and unfortunately it came off before I realised it was missing.

| | |
| --- | --- |
| | Hazel Hemsley |
| | 25th Lokakuu 2020 |

268828

These work brilliantly and ensure your privacy preventing scammers using your camera to take over your computer, or attempting to blackmail you.

| | |
| --- | --- |
| | Chris Tindale |
| | 6th Kesäkuu 2020 |
Key Features
Laitteesi webkamera / kamerat voidaan hakkeroida – suojaa itsesi.
Description
Laitteesi webkamera / kamerat voidaan hakkeroida – suojaa itsesi.
Kukapa muukaan, kuin entinen FBI johtaja James Comey suositteli hiljattain peittämään webkameramme teipillä, turvallisuus syistä. Comey uskoo, että tämä on ihmisille yksinkertainen askel "ottaa vastuuta omasta turvallisuudestaan".
Hän ei halua tulla vakoilluksi ja rehellisesti, kuka haluaa? Vastatessaan kysymyksiin Strategisen ja kansainvälisen tutkimuksen keskuksessa, Comey paljasti, että kameran peittäminen on yleistä FBI:ssä ja muissa valtion virastoissa. "Ei siinä mitään hullua ole, että FBI johtaja välittää myös henkilökohtaisesta turvallisuudestaan", hän lisäsi. "Jos menet mihin tahansa valtion virastoon, kaikilla on lippa, joka suojaa pieniä kameroita näyttöjen yläpuolella. Teemme niin, jottei kenelläkään ole valtuutta katsoa meitä. Minusta se on hyvä asia".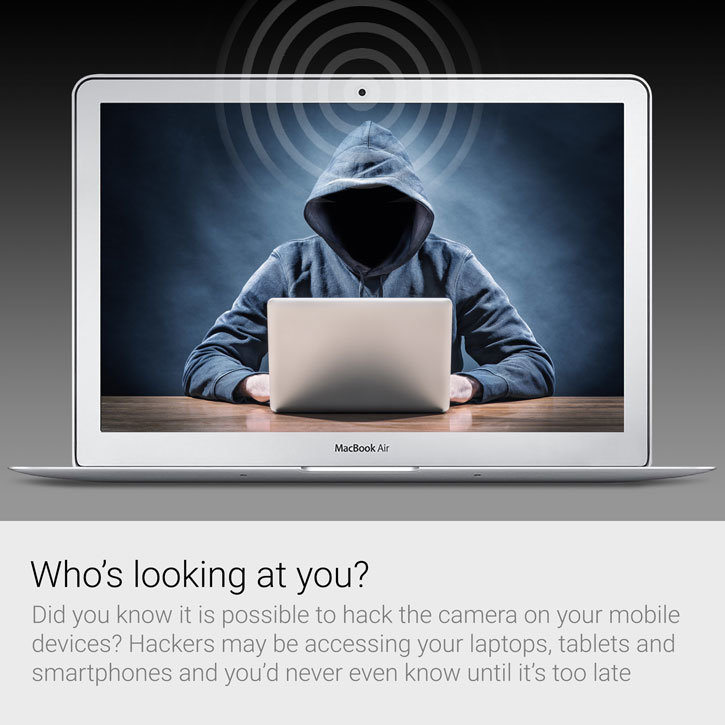 Comey sanoi myös saaneensa ideansa nähdessään "jonkun fiksumman" peittävän webkameransa teipillä – ja sen jonkun olevan mahdollisesti Facobookin perustaja Mark Zuckerberg, joka piti teipin palaa myös läppärinsä kameran edessä.
No, jos yksi turvallisimmista lainvalvontaviranomaisista koko maailmassa on huolissaan, mukaan lukien huipputeknologiayritykset, ehkä meidän kaikkien tulisi päättää ottaa askel lisätäksemme omaa turvallisuuttamme ja evätä hakkereiden pääsy kaikkiin älypuhelimiemme kameroihin. Voit ehkä ajatella, ettet ole tarpeeksi tärkeä vakoiltavaksi, verrattuna maailmanlaajuisiin organisaatioihin, rikkaisiin ja vaikutusvaltaisiin ihmisiin, mutta hämmästyisit jos tietäisit, millaisia aukkoja kamera täyttää, kun hakkerit yrittävät varastaa sinulta tietoja. He voivat saada pääsyn digitaaliseen identiteettiisi ja siitä eteenpäin… mahdollisuudet ovat melko karmivat.
Myös CNN raportoi, että hakkerit ovat suoratoistaneet henkilökohtaisia kameroita ympäri maailman,
Loukaten yksityisyyttä ja jakaen materiaalia livenä julkisilla nettisivustoilla. Kun hakkerit tekevät yhä ilkeämpiä hyökkäyksiä vuosi vuodelta ja hallitukset ympäri maailman heräävät yksityisyyden ongelmin ottamalla käyttöön yleiset tietoturva-asetukset, ei omasta tietoturvasta huoletiminen ole koskaan aiemmin ollut näin tärkeää. Ota yksi askel pysäyttääksesi hakkerit tällä Anti-Hakkerointi webkameran suojuksella.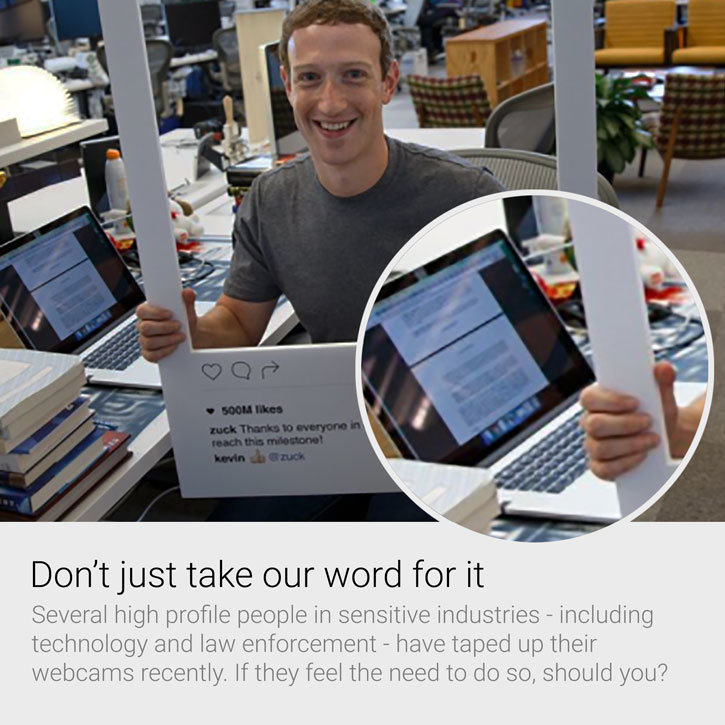 Tässä on ratkaisu onglemaan
Voit tietenkin käyttää teipinpalaa, mutta meidän mielestä voit pystyä vähän parempaankin. Kallis teknologia tarvitsee jotain elegantimpaa, käytännöllisempää ja pitkäkestoisempaa kuin teipinpala. Tämän takia on olemassa Olixar Anti-Hakkerointi Webkameran suojus. Tämä on yksinkertainen ratkaisu huipputekniseen ongelmaan ja lähtö kohta on yhtä nerokas kuin se on yksinkertainenkin. Voit asettaa suojuksen paikalleen sekunneissa, käytyämällä pinnalla 3M liima-ainetta. Kun se on paikallaan, voit liu'uttaa kameran suojusta estäen fyysisesti pääsyn siihen, ja liu'uttaa sen nopeasti pois saaden kameran taas käyttöösi.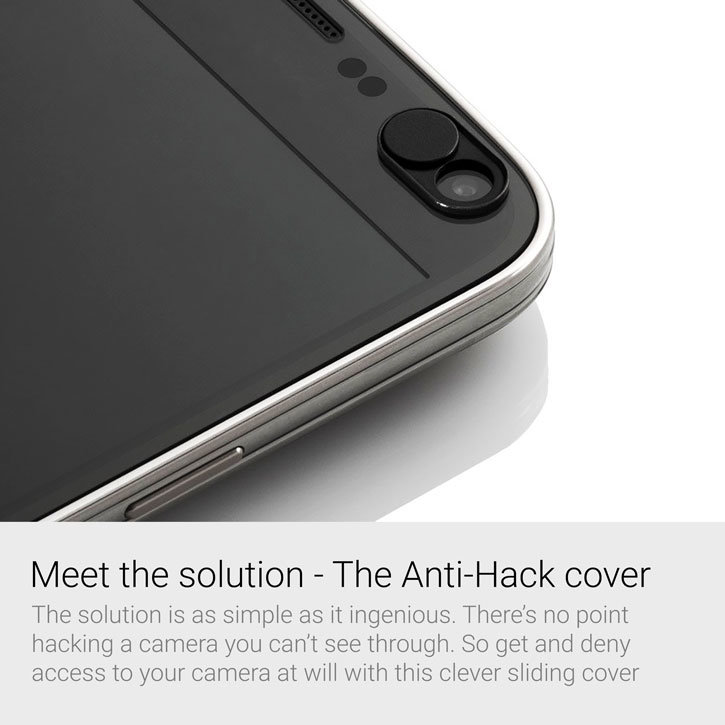 Pieni, ohut ja huomaamaton - suojakuoriystävällinen, eikä tule läppärin sulkemisen tielle
Suojus on vain 12.5mm leveä, 7mm korkea ja 1mm paksu, eli se on maailman ohuin, eikä se siten ole tiellä sulkiessasi läppärin, eikä vaikuta useimpiin älypuhelimien ja tablettien suojakuoriin.
Tämä tarkoittaa, että voit jatkaa elämääsi normaalisti ja Anti-Hakkerointi suojus hoitaa tehtävänsä ilman häiriöitä tai huoltotoimenpiteitä. Sinun tarvitsee vain liu'uttaa se pois tieltä tarvittaessa – siinä kaikki. Haluatko otta selfien? Liu'uta auki ja räpsi pois. Sulje suojus, kun olet valmis. Jos et käytä kameraasi, miksei peittää sitä? Ja jos käytät, no, voit saada sen taas käyttöösi silmän räpäyksessä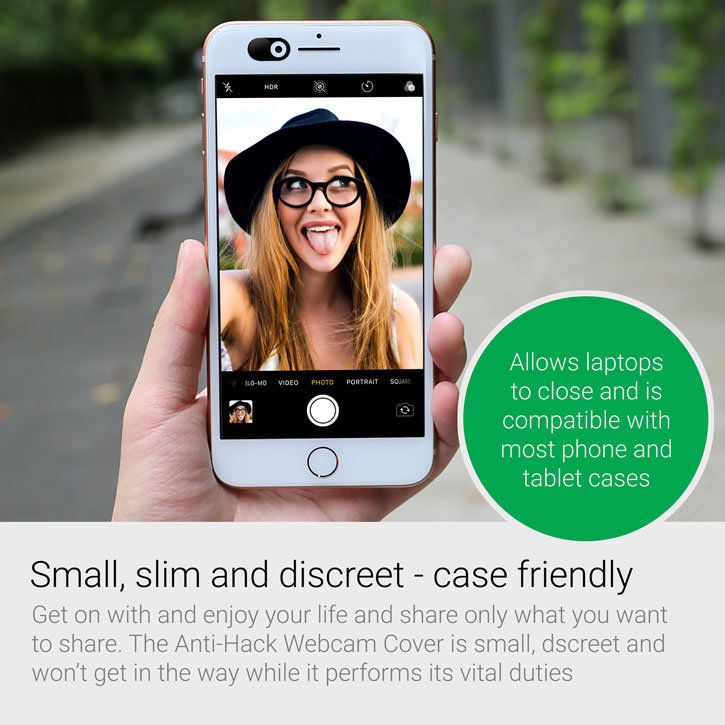 Yksi koko sopii kaikkiin laitteisiin – läppäreihin, tabletteihin ja älypuhelimiin
Yhteen pakkaukseen sisältyy 3 suojusta ja ne kaikki ovat saman kokoisia sillä ne sopivat kaikkiin kameralla varustettuihin laitteisiisi. Koska etukamerat ovat hyvin saman kokoisia, nämä suojukset sopivat hyvin läppäreihisi, tabletteihisi ja älypuhelimiisi.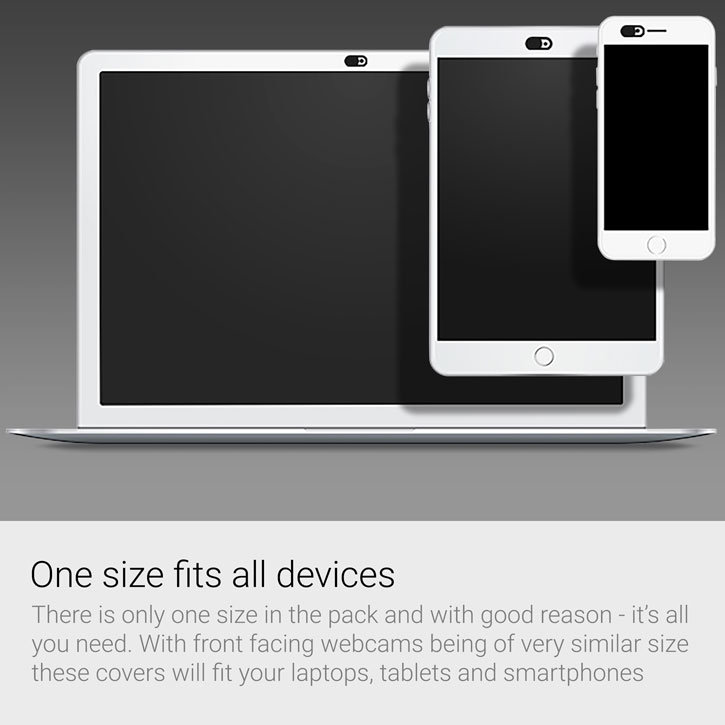 Ruostumaton teräsrakenne
Tämä suojus on tehty korkealaatuisesta, vankasta ja pitkäkestoisesta ruostumattomasta teräksestä.
Se on tarpeeksi ohut ja kevyt pysyäkseen pois tieltä ja lisäten tuskin ollenkaan mutkaa laitteesesi. Se voi ottaa vastaan yhtä paljon kolhuja kuin laitteesikin, mikäli laite putoaa tai saa osumaa.
Omat tiedot
| | |
| --- | --- |
| Part No | olx-65868 |
| UPC | 5055401759991 |
| Mobile Fun ID | 65868 |
| Colour | Black |
| Brand Name | Olixar |
Videos
Toimitus & Palautus
Perus postilähetys: 4,50€
Edullinen, luotettava postipalvelu, sopii kiireettömille tilaukseille. Tämä palvelu on jäljittämätön. Lähetys toimitetaan yleensä 5-10 arkipäivän kuluessa.
DHL Express palvelu: 30,00€
Nopea, turvallinen ja luotettava palvelu. Etuna täysi jäljityspalvelu, jonka avulla voit seurata pakettisi kulkua matkan varrella. Lähetys toimitetaan yleensä 1-3 arkipäivän kuluessa.
Jos tilauksesi on alle 150 € ilman toimituskuluja, ALV sisältyy jo hintaan, jonka maksat kassalla. Tämä tarkoittaa, että maksua ei makseta arvonlisäveroa, kun tilauksesi toimitetaan sinulle. Jos tilauksesi on yli 150 €, sinulta ei veloiteta arvonlisäveroa kassalla, ja saat tämän vuoksi tämän erillisenä maksuna paikallisen ALV-kantasi perusteella.