SuperTooth Buddy Bluetooth v2.1 Handsfree-laite - Valkoinen
Kompakti ja tyylikäs aurinkolippaan kiinnitettävä SuperTooth Buddy tarjoaa massiiviset 20 tuntia puheaikaa ja jopa 1000 tuntia valmiusaikaa.
Most Helpful Reviews
Arviot
| | |
| --- | --- |
| | Robert |
| | Samsung galaxy note 9 |
| | London |
| | 29th Kesäkuu 2020 |

232119

Great little item ideal when driving and around the house to.

| | |
| --- | --- |
| | Colin Mcclay |
| | 17th Elokuu 2018 |

148599

I drive an old car without any fancy electronics to deal with smart phones. Inevitably the small number of phone calls I receive happen mostly while I am driving and I will not handle the phone while at the wheel. So I have been on the lookout for a small hands-free device for some time. The Buddy is just right for this task. It is small and unobtrusive, easy to fix, has long battery life and does everything I need to receive and make phone calls without taking my hands off the steering wheel. It is very easy to use and is reasonably priced. Will probably buy a second one for my old Land Rover in Greece.

| | |
| --- | --- |
| | Hans-Georg Wagner |
| | iPhone 6S |
| | Brighton |
| | 25th Kesäkuu 2017 |
Miksi?
Yhteensopiva kaikkien Bluetooth-puhelimien kanssa
Multipoint Bluetooth-handsfree
Ei vaadi asentamista
20 tuntia puheaikaa ja 1000 tuntia valmiusaikaa
Kevyt ja kompakti muotoilu
Yhdistyy automaattisesti
Kristallinkirkas äänenlaatu
Description
Yhteensopiva kaikkien Bluetooth-puhelimien kanssa
Yhteensopiva kaikkien Bluetooth-matkapuhelimien kanssa ja sopii mihin tahansa autoon. SuperTooth Buddy on helposti sijoitettavissa autosi aurinkolippaan. Sopii käytettäväksi myös kotona ja toimistossa.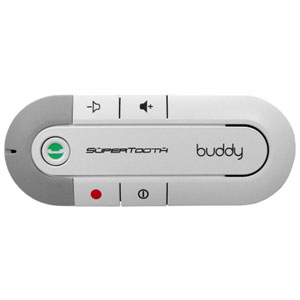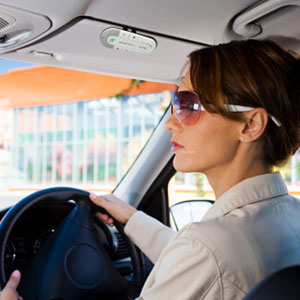 Ei vaadi asentamista
SuperTooth Buddy on erittäin helppokäyttöinen. Sen magneettinen läppä kiinnittää sen helposti ja nopeasti autosi aurinkolippaan.
Lataaminen käy kätevästi USB-latauskaapelin avulla.


Multipoint Bluetooth-handsfree
Multipoint-tekniikan ansiosta voit yhdistää SuperTooth Buddyyn kaksi laitetta samanaikaisesti. Erityisen kätevä, kun käytössäsi on sekä työ- että henkilökohtainen puhelin.
20 tuntia puheaikaa ja 1000 tuntia valmiusaikaa
Buddyn 20 tunnin puheaika pitää Buddyn käynnissä koko päivän.
Kevyt ja kompakti muotoilu
SuperTooth Buddy Bluetooth v2.1 Handsfree Visor -autosarja on kevyt, pienikokoinen ja tyylikkäästi muotoiltu. Se tarjoaa puhtaan langattoman yhteyden Bluetooth-matkapuhelimeesi.
Pienen kokonsa ansiosta se on lähes huomaamaton ajaessasi auttaen pysymään tien päällä turvallisesti.
Yhdistyy automaattisesti
SuperTooth Buddy tyylikkyytensä lisäksi myös älykäs. Jätä laite päälle poistuessasi autosta. Palatessasi hetkeä myöhemmin, Buddy tunnistaa puhelimesi ja muodostaa siihen yhteyden heti auton oven avatessasi.

Tekniset tiedot:
Mitat: 128 x 49 x 13mm
Bluetooth: 2.1
Omat tiedot
| | |
| --- | --- |
| Part No | BTBUDDYWH |
| UPC | 5030578859668 |
| Mobile Fun ID | 42648 |
| Colour | White |
Toimitus & Palautus
Perus postilähetys: 4,50€
Edullinen, luotettava postipalvelu, sopii kiireettömille tilaukseille. Tämä palvelu on jäljittämätön. Lähetys toimitetaan yleensä 5-10 arkipäivän kuluessa.
DHL Express palvelu: 22,50€
Nopea, turvallinen ja luotettava palvelu. Etuna täysi jäljityspalvelu, jonka avulla voit seurata pakettisi kulkua matkan varrella. Lähetys toimitetaan yleensä 1-3 arkipäivän kuluessa.